SAARC SUMMIT XVIII Pain but no GAIN
Ahead of SAARC Summit, Subdued Expectations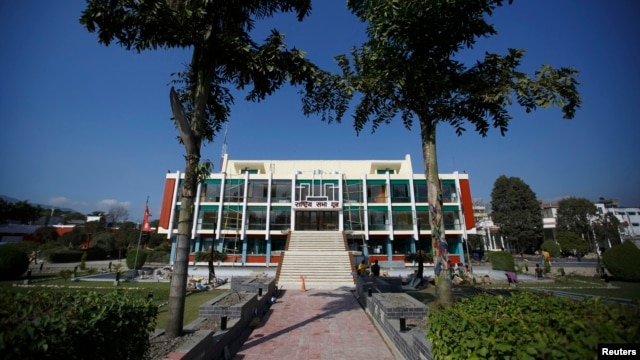 City hall venue for the 18th South Asian Association for Regional Cooperation (SAARC) summit, Kathmandu, Nov. 10, 2014.
November 24, 2014 4:56 PM
So far the most buzz surrounding this week's SAARC summit has been the Pakistani prime minister's refusal to use an India-made bulletproof car during the upcoming events.
India has provided six bulletproof cars to Nepal, which is hosting the 18th annual summit of the South Asian Association for Regional Cooperation on Wednesday and Thursday.
Leaders of India, Pakistan, Sri Lanka, Afghanistan, Nepal, Bangladesh, Maldives and Bhutan will attend, and the cars from India were meant to ferry them safely during the summit.
Some regional analysts say Pakistani Prime Minister Nawaz Sharif's decision to use his own car signifies a larger problem that has slowed SAARC's progress over the years — mistrust between India and Pakistan, the group's two biggest countries.
"If there are issues between India and Pakistan it boils down to the region and everything is put on hold," said Yurendra Basnett of London's Overseas Development Institute.
Regional leaders founded SAARC in 1985, aiming to tackle the social and economic challenges of the region. But almost three decades later, SAARC has not achieved much. Many critics say that it has become just a "talking shop" that produces little action.
According to the regional news media, this year's summit will not challenge that criticism. Poverty alleviation, climate change, energy cooperation and improving regional connectivity are some of the issues that will figure in the summit declaration. The leaders also are expected to sign a motor vehicle agreement to improve transportation among SAARC countries.
"SAARC declarations are always full of big promises, the problem is implementation," says Basnett.
But SAARC has achieved milestones, such as the South Asian Free Trade Agreement (SAFTA) to promote trade; the SAARC Development Fund to finance projects and programs; and a South Asian University for students of SAARC countries.
At the South Asia Economic Summit in New Delhi recently, India's former foreign secretary Shyam Saran listed those achievements, but conceded that "SAARC has been unable to promote truly collaborative projects among its members."
SAARC has been unable to realize its potential because of its inability to develop institutions to facilitate program implementation, says Kishore C. Dash, associate professor of international studies at Thunderbird School of Global Management in the United States.
Today, SAARC is far behind other regional groups, such as the Association for Southeast Asian Nations (ASEAN), when it comes to integration.
One sign of the bloc's lacking economic integration: trade among SAARC countries is just around five percent of their total trade.
Benefits of Shared Prosperity Elusive
One of the reasons SAARC leaders have not followed through on their promises is the lack of public accountability.
Because SAARC projects do not affect daily life for most people, the public does not care about the group, and, says Basnett, that is why people do not hold their leaders responsible. "No one asks what was declared and what was implemented," he adds.
This is in contrast to ASEAN, where people think their economic well-being is linked to the region. ASEAN countries are connected by a complex web of production networks and people are able to see the benefits of shared prosperity.
In ASEAN, it is common for products to move a couple of times across the borders before getting shipped to Europe or America, and this shared interest forces countries to come to the table to address regional issues, Basnett says.
Moreover, Kishore Dash says his research shows that despite of shared history and culture, South Asians do not have a sense of shared identity like Europeans or South East Asians.
"Regional identity is not developed and is not creating the kind of glue," like European identity in case of European Union or Southeast Asian identity in case of ASEAN, contends Dash.
Connectivity Key Issue
One of the main reasons that cross-border production networks have not developed and people do not feel connected to South Asia is lack of connectivity — not just in terms of physical infrastructure but also in terms of systems and services that enable cross border movement.
Today, South Asia is the least integrated region of the world, Basnett says. "It is easier for people to go to Europe than to go from one country to another in the region," adds Basnett who comes from Nepal.
Lack of connectivity, logistical issues and regulatory barriers dissuade businesses from dealing with each other even when there is a compelling reason to do so.
At this summit, however, SAARC leaders will are expected to address this issue in this week's summit by signing a motor vehicle agreement which will make it easier for vehicles, both personal and cargo, to cross borders.
SAARC's Future
When it comes to SAARC, it often is said that if India doesn't move, nothing moves. Many regional analysts are hopeful conditions are right for India to take the lead, thinking the new Narendra Modi government in Delhi, with its focus on economic growth, has the potential and will to strengthen SAARC's economic integration. Some foreign policy experts say Modi's invitation to SAARC leaders to attend his swearing-in ceremony and his visits to Nepal and Bhutan within months of becoming prime minister, show that the neighborhood is his priority.
On the other side of the border, Pakistan's Prime Minister Sharif is a strong proponent of increasing trade ties with India.
But relations between Indian and Pakistan have deteriorated in the past few months, and, historically, it has been impossible for SAARC to achieve anything if there is tension between the two countries.
Those tensions risk overshadowing this week's summit. There have been no indications Modi and Sharif will meet on the sidelines in Kathmandu.
The biggest hope for SAARC is that dialogue continues at the highest level. Dash at the Thunderbird School says this in itself is a significant achievement for SAARC.
Source: Voice of America
Brief on SAARC
BRIEF ON SAARC SUMMIT
The South Asian Association of Regional Cooperation (SAARC) was created in 1985 as an expression of the region's collective decision to evolve a regional cooperative framework. Presently, there are eight member countries in SAARC namely Afghanistan, Bangladesh, Bhutan, India, Nepal, Maldives, Pakistan and Sri Lanka. It also has nine Observers, namely China, EU, Iran, Republic of Korea, Australia, Japan, Mauritius, Myanmar and USA.
India was the Chair of SAARC in 2007 and the year was the most productive year that SAARC had ever known. Each of Hon'ble Prime Minister's announcements at the 14th Summit in Delhi has been implemented. The operationalization of the SAARC Food Bank; the establishment of the SAARC Development Fund; setting up of the South Asian University; the SAARC Cultural Festival; the launching of negotiations to bring services into SAFTA; signing of the Convention of Mutual Assistance in Criminal Matters and our unilateral grant of zero duty access to SAARC LDCs from January 1, 2008 are significant steps to regional integration. SAARC's geographic contours also changed with the formal induction of Afghanistan in to SAARC as the eighth member.
The momentum generated by 14th Summit held in New Delhi coupled with India's commitment to discharge its responsibilities in an asymmetric and non-reciprocal manner, was carried over to the 15th SAARC Summit, held in Colombo (2-3 August 2008) and the 16th SAARC Summit held for the first time in Thimphu (28-29 April 2010).
The most visible manifestation of this new dynamism in SAARC has been the early operationalization of the SAARC Development Fund (SDF) and the inauguration of its permanent premises in Bhutan during the Sixteenth SAARC Summit in April 2010. India has transferred its full commitment of US $ 189.9 ($ 89.9 million as assessed contribution and $ 100 million as grant for the social window) to the SDF. Other Member States are also expected to remit their contributions to the SDF shortly. Two regional projects - on women's empowerment and maternal and child health care - under SDF are currently being implemented with technical assistance from India.
Cooperation in the field of higher education is set to touch a new horizon with the establishment of the South Asian University (SAU) at New Delhi in the near future. India will bear a major part of the cost of establishing the University, including 100% of the capital cost. The University is expected to be fully established by 2015. The Sixteenth SAARC Summit (Thimphu, April 2010) appreciated the progress made towards establishing the University and the announcement of the CEO of the SAU Project Office to initialize the first academic session of the University with effect from August 2010.
In a bid to preserve the rich textile and handicraft traditions of the South Asian region, Prime Minister, at the Thirteenth SAARC Summit (Dhaka, November 2005), proposed the establishment of a SAARC Museum of Textiles and Handicrafts in New Delhi. The Museum would be an Intergovernmental Body on the lines of the other SAARC Regional Centres and will be housed in Delhi Haat, Pitampura. Premises for the Museum have been acquired in January 2010.
Taking forward the theme of regional connectivity, the Second Meeting of SAARC Transport Ministers held in Colombo (24-25 July 2009) directed that a Special Meeting of the Expert Group be convened to negotiate two draft Regional Agreements on Motor Vehicles and Railways in a time bound manner. The Sixteenth SAARC Summit in Thimphu, reiterating the centrality of connectivity to further deepen and consolidate regional integration, endorsed the recommendation to declare 2010-20 as the "Decade of Intra-regional Connectivity in SAARC" and agreed on the need to expedite negotiations with a view to finalizing the two agreements on Motor Vehicles and Railways.
Commendable progress has taken place in the full implementation of South Asian Free Trade Agreement (SAFTA). Intra-SAARC trade touched US $ 529 million in 2009, a considerable jump from the previous two years. Member States have appreciated India's gesture to give duty free access to LDCs from January 1, 2008, one year ahead of target date and unilateral reduction of its Sensitive List with respect to LDCs from 744 to 480.
The growing synergies in SAARC found expression in a cooperative position on Climate Change presented on behalf of Member States of SAARC to the UNFCCC Secretariat before the Copenhagen Summit in 2009.
Cabinet Secretaries from SAARC Member States met in New Delhi on 13-14 November 2009. They exchanged information and best practices on administrative reform initiatives with the aim of accelerating the process of eradication of poverty in the region. Member States noted with appreciation the presentation by India of two Concept Papers on Performance Management and Evaluation and Sharing of Best Practices in Information Technology and expressed the desire for enhanced cooperation. At the request of SAARC Cabinet Secretaries, Workshops on e-Governance (16-17 February 2010) and Government Performance Management (30-31 April 2010) for SAARC countries were held in New Delhi.
People-to-people activities in the SAARC region have also witnessed an increase in recent years. In 2009, India hosted the Third SAARC Bands Festival and the Second SAARC Festival of Literature in New Delhi, and the Second SAARC Folklore Festival in Chandigarh.
India has also funded regional development projects in the areas of telemedicine, tele-education, solar rural electrification, rainwater harvesting, seed testing laboratories and shuttle breeding of pulses using a hub-and-spokes approach. The projects, in various stages of implementation, have been greatly appreciated by the recipient SAARC countries.
SAARC has witnessed increasing cooperation on security matters especially in the last two years. The Thirty-First Session of the SAARC Council of Ministers (Colombo, February 2009) adopted the 'SAARC Ministerial Declaration on Cooperation in Combating Terrorism' to forge deeper collaboration to address the growing menace of terrorism in the region. The SAARC Terrorist Offences Monitoring Desk (STOMD) and SAARC Drug Offences Monitoring Desk (SDOMD) based in Sri Lanka enable exchange of information on terrorist and drug related cases. The infrastructure for the desks is being strengthened with financial assistance from the Government of India. Similarly, an internet based network among police authorities of Member States is being set up by India for exchange of open/unclassified information. The Declaration adopted at the Sixteenth SAARC Summit in Thimphu also included a strong statement on the threat of terrorism.
At the Third SAARC Interior/Home Ministers Meeting that took place in Islamabad on June 26, 2010 a SAARC Ministerial Statement on Cooperation against Terrorism was adopted. The Islamabad Statement, inter alia underlined the commitment of Member States to implement measures against the organization, instigation, financing and facilitation of terrorist activity; underscored the commitment to apprehend and prosecute or extradite persons connected with acts of terrorism; reiterated the taking of appropriate measures to ensure that respective territories were not used for terrorist installations or training camps or for the preparation or organization of terrorist acts intended to be committed against other States or their citizens; and reiterated contribution to efforts for the early adoption of the draft UN Comprehensive Convention on International Terrorism.
In another significant achievement, the Standard Operating Protocol on Trafficking of Women & Children was finalized at the Third Meeting of the Regional Task Force to Implement the SAARC Conventions relating to Trafficking in Women & Children and Promotion of Child Welfare in South Asia held in Shimla on 28-29 May, 2009.

Sixteenth SAARC Summit, Thimphu (28 & 29 April, 2010)

The Sixteenth SAARC Summit was a historic event as it marked the twenty fifth anniversary of the organisation. This was also the first gathering of SAARC Leaders in Bhutan. The Summit adopted the Thimphu Silver Jubilee Declaration entitled, "Towards a Green and Happy South Asia", and a separate Statement on Climate Change.
In the Thimphu Declaration, SAARC Heads of State/Government decided to develop a 'Vision Statement' and set up a 'South Asia Forum', which would provide inputs for charting out its future course of the organisation and suggest, if necessary, improvements required in the existing mechanisms. The Summit Declaration strongly condemned terrorism in all its forms and manifestations and expressed deep concern over the threat which terrorism continued to pose to peace, security and economic stability of the South Asian region. It directed Commerce Ministers to continue coordinating SAARC positions on WTO Issues and the Doha Development Agenda during the Seventh WTO Ministerial Conference. The leaders emphasized deepening regional efforts on poverty alleviation and called for the expeditious mainstreaming of the SAARC Development Goals (SDGs) in the national processes and completion of the Mid-term Review of the SDGs as scheduled. They further noted the useful finding and recommendations made by successive regional studies through the Regional Poverty Profiles and directed the relevant SAARC mechanisms to act on them.
The Thimphu Statement on Climate Change outlined regional actions on the issue of climate change. These included, inter alia, seeking Observer Status for SAARC at the UNFCCC and evolving a common position for the 16th Conference of Parties to be held in Cancun, Mexico; launching a number of studies to better understand changes brought about by global warming in the region; and establishing an Inter-governmental Expert Group on Climate Change to develop a clear policy direction and guidance for regional cooperation as envisaged in the SAARC Plan of Action on Climate Change; and commissioning SAARC Inter-governmental Mountain, Marine and Monsoon Initiatives.
Two instruments, the SAARC Convention on Cooperation in Environment and Agreement on Trade in Services, were signed at the Summit. The Summit inter alia took decisions on regional cooperation relating to security, trade, climate change, energy and food security, poverty alleviation and disaster management.

17th SAARC Summit

The XVII SAARC Summit takes place in Addu City, in the southern atolls of the Maldives, situated in the Southern Hemisphere. This is the third time that Maldives hosts a SAARC Summit; it did so previously in 1997 (IX Summit) and 1990 (V Summit).
The theme for the Summit is "

Building Bridges

". This covers both the direct implication of connectivity between the SAARC Member States, and also the conceptual connotations of connecting peoples of the SAARC region in all facets, including social, economic, cultural, developmental aspects. This harmonizes with the observance of the current decade as the "SAARC Decade of Intra-Regional Connectivity".
The South Asian Association for Regional Cooperation, (SAARC) was created in 1985 in Dhaka with 7 members, as an expression of the region's collective decision to evolve a regional cooperative framework. With Afghanistan who joining the association in 2007, there are now eight member countries in SAARC namely Bangladesh, Bhutan, India, Nepal, Maldives, Pakistan and Sri Lanka.
The renewed and reinvigorated engagement of India with SAARC over the past few years has been one of the main factors leading to the gradual and irreversible transition of the organization from a declaratory phase to one of implementation. This phenomenon has been further complemented by India's commitment to discharge its responsibilities in an asymmetric and non-reciprocal manner.
SAARC has 9 Observers, namely Australia, China, the European Union, Iran, Japan, the Republic of Korea, Mauritius, Myanmar and the USA.


November 2011

© Content Owned by Ministry of External Affairs, Government of India.

Visitors: 28578665

Page last updated on: 11/11/2011
Analysis
You are here:

orfonline.org » Publications »

Analysis
Significance of the 17th SAARC Summit
N Sathiya Moorthy
06 December 2011


With the 'Addu Declaration', issued at the conclusion of the 17th SAARC Summit in Maldives, resolving to take the maritime and rail linkages among member-nations forward and with tangible goals set for the present, there is promise of SAARC moving forward to integrate South Asian economies. The decision for India, Maldives and Sri Lanka to cooperate in building maritime connectivity and for India, Bangladesh and Nepal to develop railway links will go a long way in bringing SAARC goals nearer to achievement full 25 years after the concept of South Asian cooperation was given some practical shape. Each of these components need to be expanded to cover other nations in the region. Bringing Afghanistan and Pakistan, into this process of building maritime and rail-road linkages in South Asia acquires importance, if the current initiative were not to be lost.

The success of SAARC depends on a variety of factors, both internal and external. First, there is the question of political resolve in member-nations to implement all the various declarations and decisions of SAARC summits. Differences between India and Pakistan have hampered the speedy completion of the SAARC agenda from the beginning. The inclusion of Afghanistan as a full-fledged SAARC member has brought in both opportunities as well as challenges. Earlier the focus was on India-Pakistan differences as obstacles to progress. Now it is for Pakistan to address issues pertaining to fundamentalism and terrorism which affect the region and sort out the problems in its relations with Afghanistan. Pakistan will also have to shed its perceived security concerns related to Afghanistan and also facilitate over-land connectivity and two-way movement of goods between India and Afghanistan.

The India-Pakistan differences are really not as insurmountable as they might appear. Mutual trust will help to resolve them in course of time. Unfortunately, terrorism sponsored from Pakistan territory has continued to make neighbouring India look at Islamabad with suspicion. There seems to be some realisation in Pakistan's political circles about the need for working closely with Afghanistan and India even to eradicate terrorism from its soil. Pakistan-based terror groups, often assisted by the ISI, have also been using the territory of other SAARC nations, particularly Nepal and Bangladesh, to target India, which has give cause for concern to these countries also. Apprehensions now exist even in Maldives and Sri Lanka.

India's role and responsibility

SAARC has taken 25 long years to reach where it is today. The growth of Indian economy during this period, and the opportunities that it offers to India's South Asian neighbours, jointly and severally, were not there when SAARC was founded. India's place in the global economy has given New Delhi a certain leverage and confidence to look at SAARC, and indeed at the world beyond, in full awareness of its responsibilities and role in contributing to their economic advancement.

South Asia's economic integration will help India's growth as much as the economic growth in its SAARC neighbours. Given the fact that the global economic turmoil has left very few nations, regions and groupings unaffected, for India to sustain its own economic growth it should help to develop the markets in South Asian countries and, at the same time, open up its own vast market to them. India's economic success has contributed to a new awareness in these countries of their larger neighbour being more of a source of support and cooperation than of irritation. There are indications of fairly common desire to sort out the differences and irritants that their countries may have with India.

In the new environment of a fast globalising world, cooperation for a better future takes precedence over political confrontation and contention left over by history. In an environment of cooperation, willing neighbours will find India open-mined and generous in dealing with them. Even as efforts must continue to peacefully resolve lingering bilateral problems, SAARC countries must work together for the larger goal of peace, progress and prosperity of their people.

Common currency for SAARC?

Though SAARC's founders had contemplated the EU model for it, the Association has been reluctant even to consider measures such as a SAARC passport for greater freedom of movement and unhindered trade, not to speak of open borders and single currency for the region's integration. The Addu Summit was characterised by the usual timidity in this regard. The Summit Declaration chose not even to mention a forward-looking suggestion by the Sri Lankan President, Mahinda Rajapaksa, for a 'South Asian currency'.

However, Maldives has taken the initiative to begin discussions with India and Sri Lanka about direct exchange of its ruffiah against the currencies of the other two nations. For Maldives, in particular, the measure would yield immediate benefit. India and Sri Lanka are its major trading partners and earning US dollars to pay for imports has been a major problem for the country. The solution should lie in balancing the books between SAARC members in terms of dollars and expanding the experiment to cover bilateral arrangements among all SAARC members. Common SAARC currency is an idea the adoption of which may become unavoidable, after a time, when there is greater integration of SAARC economies, including on the labour front.

Migrations in search of employment in the region are a problem and varying restrictive visa regimes are a part of it. India's neighbours are complaining about the non-availability of the facility of visa-on-arrival regime in India. Maldives offers this facility to all nations owing to its needs as a global tourist destination. Sri Lanka, which used to be open, has begun to review the position: it has decided that the facility has to be bilateral. India has genuine concerns in regard to security and unauthorised movement of individuals. Experience, however, has shown that ban on travel movement has not made the security situation any less worrisome. For Sri Lanka, the source of apprehension is different: Colombo is reluctant to enter into a Comprehensive Economic Partnership Agreement (CEPA) because of its fears about Indian professionals and skilled labour flooding its market. India could have similar apprehensions, and a via media needs to be found at the SAARC-level. Issues remain between India and Bangladesh, on the labour front.

SAARC needs to evolve a common economic and fiscal policy for an effective free trade area. The Indian decision announced at Addu, to prune the 'Sensitive List' from 425 tariff-lines to 25, is a big positive step in the direction of economic integration of the SAARC countries. Moving in slow and halting steps, SAARC has, nevertheless, gathered some strength. The setting up of the SAARC University in New Delhi will create greater awareness among the young of the region of their common heritage, shared interests and help promote common standards in higher education.

The harmony and the spirit of mutual understanding and cooperation witnessed at the Addu Summit should, one hopes, lead to SAARC countries speaking with one voice on important issues in international arenas regardless of bilateral difference such as those between India and Pakistan. Complex bilateral problems are best left to be resolved through bilateral negotiations. The SAARC mandate rightly prohibits raising of such issues in the group's meetings at different levels.

Perhaps, the most important feature of the 17th SAARC Summit was the one pertaining to the promotion of maritime and rail connectivity among three of the region's eight countries. Much improved connectivity - maritime and on-land, duly extended to cover all member countries, will lead to reintegration of the region, which was, not-so long also, one single whole.

(The writer is a Senior Fellow at Observer Research Foundation)
© 2012 Observer Research Foundation. All Rights Reserved.
http://www.defence.gov.au/adc/docs/adca2012/adca_120214_joskeprize-devindarkumar.pdf
...and I am Sid Harth