Devendra Fadnavis: Promises, promises is my Style
In Conversation with Maharashtra Chief Minister Devendra Fadnavis: Highlights
Directions
–
Search Maps, Get Driving Directions Instantly with Free App!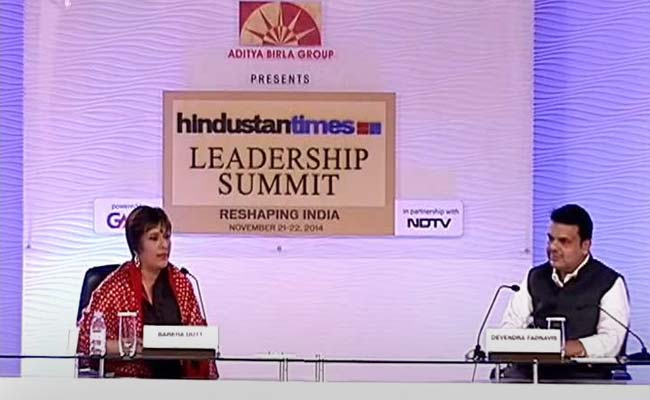 New Delhi:
Maharashtra Chief Minister Devendra Fadnavis spoke at the Hindustan Times Summit in New Delhi today.
Here are the highlights:
I think in our quasi-federal structures, not just the centre but that states which have to perform.
Of late, I see a sense of competitiveness amongst the states - to progress, to attract investment , to move forward.
Like India, Maharashtra also has a human dividend - 57% of the population in the state is below 25.
On certain issues, we have to work in tandem with the central government.
If the 'Make-in-India' dream has to come true, Maharashtra has to contribute.
When I took over, in designated industrial areas, you needed 76 permissions to start a single unit and to get them, you needed one to three years.
We have decided to bring down those 76 permissions to 20-odd and put them on a single IT platform... and a few months if you want to start a unit, you will be able to get permissions in 1 - 3 months.
Maharashtra has decided we will be the biggest players in the digital India movement.
2015 will be Digital Service Year for Maharashtra.
We will ensure e-governance at all levels.
We have decided to have a Right to Service Act so that everyone in the government can be held accountable.
All powers were in the Mantralaya. We don't need power - we need to empower the officers and hold them accountable.
25,000 villages in Maharashtra that are drought-prone.. we have decided to make the state drought-free in 5 years.
We will be using technology to ensure farmers get relief when there is a drought.
Once Maharashtra changes India will change.
We will provide 24x7 power, Maharashtra would be load-shedding free.
Urban infrastructure is a major issue - 50% of Maharashtra lives in 265 cities and the rest in 44K villages.
We have fast-tracked all development projects of Mumbai.
Very soon, you will see a makeover in Mumbai - yesterday I cleared 72 kilometres of two corridors of Metro rail.
I'm perceived as a very soft person and I am soft. So when someone asked me about heading the administration, I said I can be ruthless as well. That was about being a tough administrator.
In politics, we cannot say how long parleys will last...we have stopped speaking to the media on the talks but I can tell you that they'll reach a definite conclusion.
We neither said yes to NCP's support nor did we say no.
The other alternative was to stand my ground in whatever situation I was in and let my action speak louder than words.
There will be no vindictiveness but whatever action needs to be taken will be taken (on investigation into scams)
There are some cases in which there are blatant actionable errors in which we will act.
There are some cases which appear morally wrong but are not legally actionable so we will put that before the public.
Faced more criticism in the three days after the vote of confidence than I have in 22 years of political life.
Neither the Shiv Sena or the Congress had initially demanded a division of votes...when a motion is cleared and we have moved on, we can't come back...you can't get transparency by breaking established procedure.
The average age of Maharashtra's population is 27 years and for this new generation, caste doesn't matter. What matters to them is development, education, jobs.
Even today, caste plays a role in politics but it has reduced. So if we keep giving caste, religion importance then this generation will make us obsolete.
RSS doesn't advise me on how to run the government, there is no question of that.
For us Hindutva isn't a religion, that is a very narrow vision.
When we meet RSS leaders, we talk about the country, not how to run government.
Smaller states is part of the political ideology of my party.
As chief minister of Maharashtra, my priority is to solve the agrarian crisis in Vidarbha.
I have to work towards 'moisture security' in the region.
Need centrally sponsored schemes to create a development standard in each state.
The participation of the states in centrally-sponsored schemes is important...these schemes need the states' contribution - need to create instruments so that states that are debt-ridden can participate in these schemes.
We have to work on East-West connectivity in Mumbai. But it is not just providing roads, we need to integrate our transport systems.
I remember 2000 songs -- I can't sing but my wife can..so we complement each other.
I had modelled for a garments in 2004 -- Atalji saw that story on NDTV and called me... When I met him in Delhi, he patted me on my back and said, 'Aao Model MLA'.

Story First Published: November 22, 2014 10:45 IST
Source: NDTV
...and I am Sid Harth